Tackling malaria in Senegal through prevention, partnership, and strategic interventions
#ReadyToBeatMalaria #EndMalaria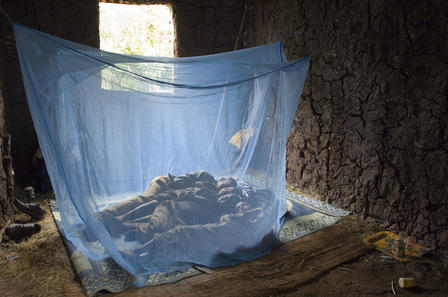 SHOPS Plus is working with local partner ADEMAS* to tackle malaria, a disease that continues to be a major cause of mortality in Senegal. The use of long lasting insecticide-treated mosquito nets has been a successful prevention measure. According to the 2016 Senegal Demographic and Health Survey, more than 56 percent of households have at least one net for every two people. Although the number of reported cases has dropped in recent years, largely due to the use of the nets, malaria continues to be a high priority for the government of Senegal. 
In October 2016, SHOPS Plus began distributing long lasting insecticide-treated mosquito nets as part of an initiative to reduce the high number of malaria cases and malaria-related deaths. Since then, the project has distributed 93,387 of the nets, which is estimated to have covered 1,526,794 households across the country. 
One challenge the team faces is the drop in demand during the cold season. There is a misconception that the risk of contracting malaria decreases when it is cold because there are fewer mosquitos. However, this is not the case. Consistent use of bed nets all year round is necessary for people to effectively protect themselves against malaria. In an effort to bust such myths, SHOPS Plus recently updated materials promoting the bed nets and conducted awareness-raising activities to communicate the importance of sleeping under bed nets year round. The project is exploring partnership opportunities with corporate partners for the purchase of socially marketed nets for staff, their families, and the surrounding community as part of corporate social responsibility activities.
In an effort to strengthen the approach of these prevention interventions, SHOPS Plus led an assessment of the market for malaria products and services to identify opportunities to better meet demand in collaboration with stakeholders from the public and private sectors. Once finalized, the findings from the report will help inform future priorities of the National Malaria Control Program as well as the activities of SHOPS Plus, ADEMAS, and other stakeholders. 
According to the World Health Organization, in 2016 there were 216 million cases of malaria worldwide and 445,000 malaria-related deaths. Interventions like the distribution of long lasting insecticide-treated mosquito nets and behavior change campaigns to increase their use are going to be pivotal in the fight to end malaria in Senegal and elsewhere. 
*ADEMAS, Agence pour le Developpement du Marketing Sociale, in French, is a social marketing organization based in Dakar. Founded in 1998, ADEMAS is the SHOPS Plus partner in Senegal.