Startup competition seeks promising digital health solutions in Madagascar
SHOPS Plus is partnering with Orange Fab, a business startup accelerator, to identify and support promising digital health enterprises in Madagascar. The Orange Fab competition, now in its second year, is currently accepting applications from startups across the country. SHOPS Plus is supporting the addition of a health component to the competition.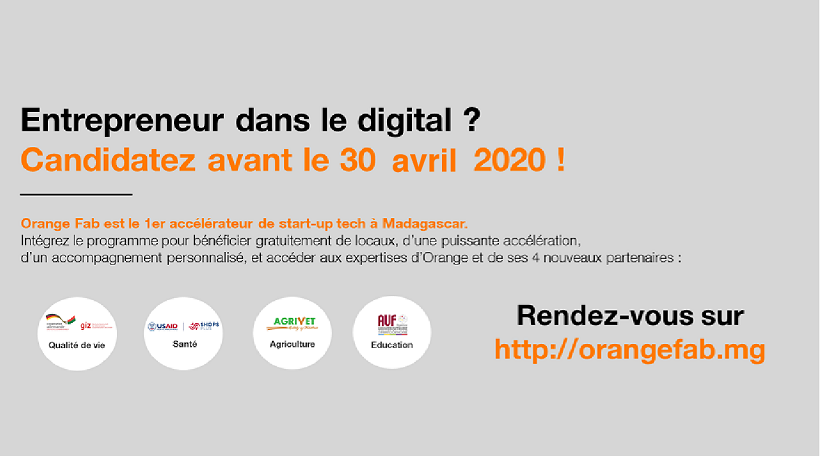 Recognizing the need for support to health enterprises
In 2019, SHOPS Plus performed a study of the entrepreneurial ecosystem in Madagascar's health sector. The study found that although the health sector offers opportunities for startups, there are several obstacles to success, including a lack of access to finance, insufficient market information, and insufficient commercial and entrepreneurial competencies.
Orange Fab, with experience in supporting startups around the world, proved a natural partner in growing the nascent culture of health entrepreneurship in Madagascar. Through this partnership, SHOPS Plus is able to leverage Orange Fab's existing competition to find and support creative private sector solutions to Madagascar's biggest health challenges.
Evaluating applications to identify innovative health solutions
SHOPS Plus will collaborate with Orange Fab to develop criteria to evaluate health startups and review applications, drawing on its expertise in private sector health to select the most promising health startups.
Health entrepreneurs will go through three rounds of selection, culminating in a 10 minute pitch to a jury consisting of Orange Fab staff, SHOPS Plus staff, digital entrepreneurs, and incubators based in Madagascar. In June, one to two health startups will be selected to receive six months of accelerator support from Orange Fab, including training and mentoring, business development, and access to Orange Fab's co-working space for startups. Check back soon to learn which health enterprises have been selected in this year's competition!
Visit Orange Fab's website to learn more about the competition. The deadline to apply is April 30. Get competition updates by following the Orange Fab Madagascar Facebook page.
For further reading, we have a report on the opportunities and recommendations for entrepreneurship in the health sector in Madagascar. The report is in French.