The SHOPS Plus project in India wins a Silver Effie for effective marketing
The SHOPS Plus project in India won a Silver Effie for effective marketing in its child health campaign at the Effie Awards ceremony on January 10, 2020. The SHOPS Plus "Helping India Defeat Diarrhea" video highlighted the project's integrated campaign promoting combined use of ORS and zinc to treat diarrhea for children under five, and was featured in the Healthcare - Products category. 
The Effie Awards take place each year in 50 countries to spotlight effective marketing. As the globally recognized, pre-eminent award in the industry for marketing effectiveness, winning an Effie has become a symbol of achievement. This year there were over 800 entries in India. To win, campaigns must include teamwork between the client and the ad agency and in-depth understanding of challenges, context, and objectives. The campaign must bring ideas to life in a way that drives measurable and meaningful results for the brand, organization, or business. In the case of SHOPS Plus, this meant effectively reaching caregivers on how to better treat diarrhea, one of the leading causes of death for children under five.
"Winning an Effie has always been a matter of great pride for every marketer and each of the winners are truly deserving of this recognition. Effie India Awards 2020 continues to be the highest honour in innovation and effectiveness and with this award we continue to be committed towards recognising and rewarding thought leadership showcased by brands and advertisers." Partho Dasgupta, President, The Advertising Club and host of the 2020 Effie India Awards.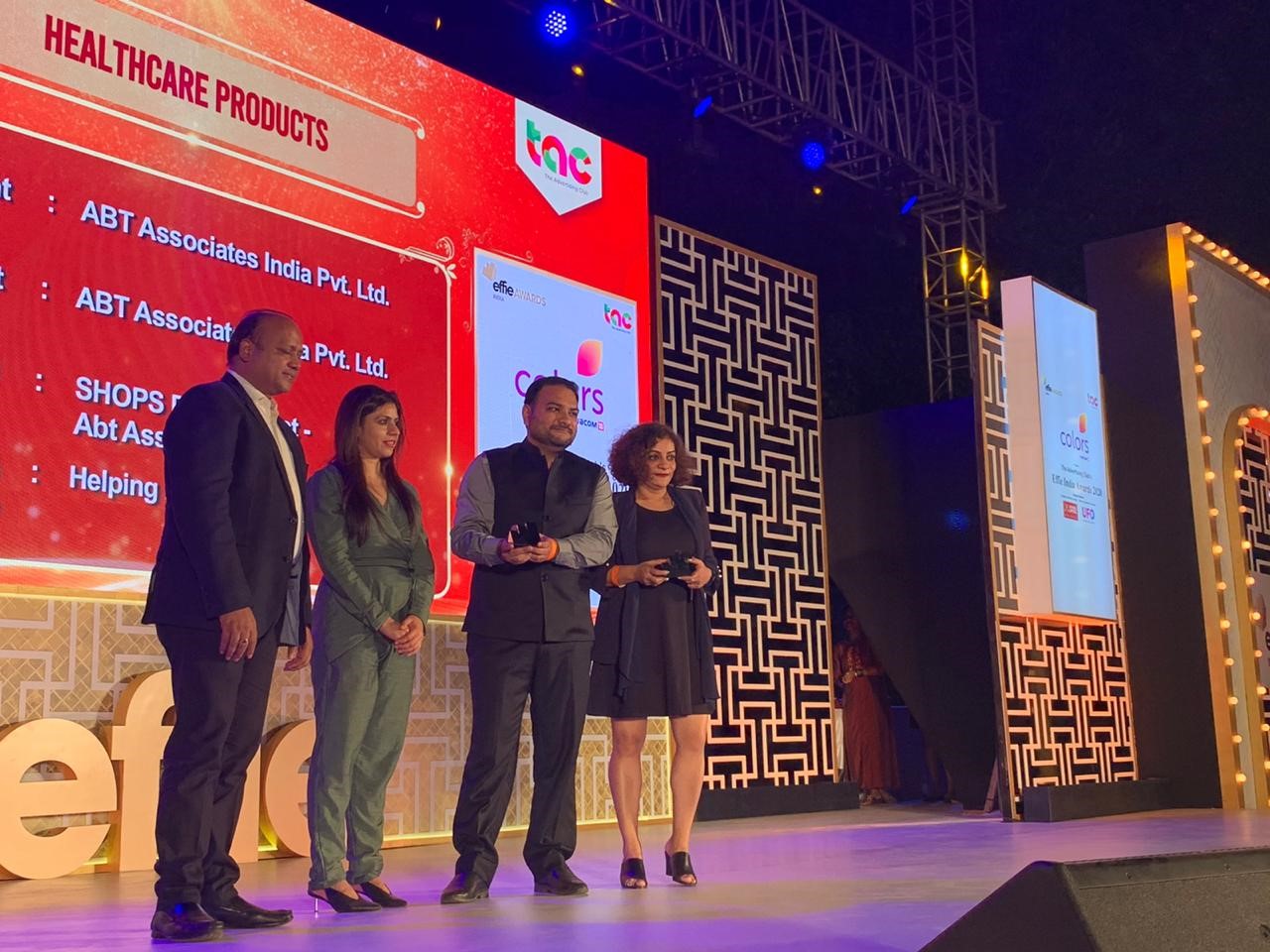 Team members from the SHOPS Plus project in India accepting the Silver Effie award.
SHOPS Plus created and executed the award-winning integrated media campaign to deliver key messages on child health. As part of this, SHOPS Plus helped the government of India rebrand its national "Intensified Diarrhea Control Fortnight" campaign to become "Defeat Diarrhea".  The new campaign with TV and  radio spots was adopted by the government of India's Ministry of Health and Family Welfare and broadcast on the national channel network and All India Radio, reaching a combined 107 million people. The project also created digital properties on social media, including two Facebook pages, My Little Shararat and Khushiyon ki Shuruaat, and a YouTube channel, further extending the reach of the child health campaign by 6.5 million. To complement this, SHOPS Plus developed innovative virtual reality and interactive infotainment tools that reached over 200,000 people at schools, urban slums, chemist shops, front line government service delivery points, hospitals, and clinics. The tools, including a jigsaw puzzle, virtual reality roller coaster, digital first aid box, and others, shared information on ORS and zinc as a first line of treatment for diarrhea.
Visit our India page to explore all the other programs we are working on.