Shining a light on health financing and the private sector in the Middle East and North Africa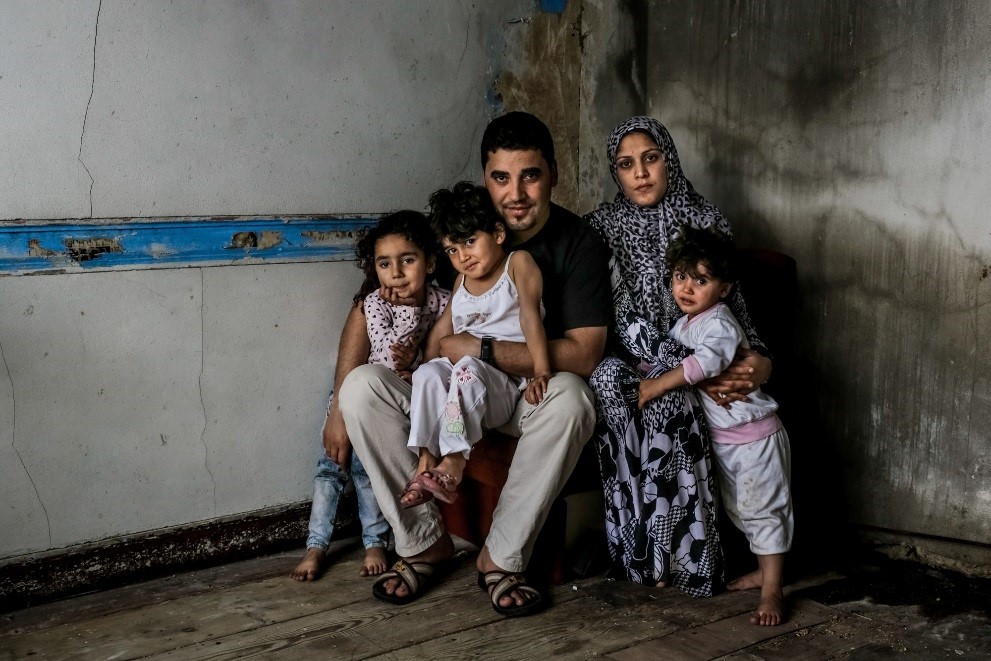 SHOPS Plus highlights regional trends, identifies gaps in information, and makes recommendations for future USAID health investments in the Middle East and North Africa through a landscape analysis conducted by the project in partnership with USAID's Health Finance and Governance project. 
The analysis explores the private health sector and health financing in 11 low- and middle-income countries, including Algeria, Egypt, Iraq, Jordan, Lebanon, Libya, Morocco, Syria, Tunisia, the West Bank and Gaza, and Yemen. All of this information is displayed in an interactive story map that guides stakeholders country by country through the region. 
Some of the key findings include: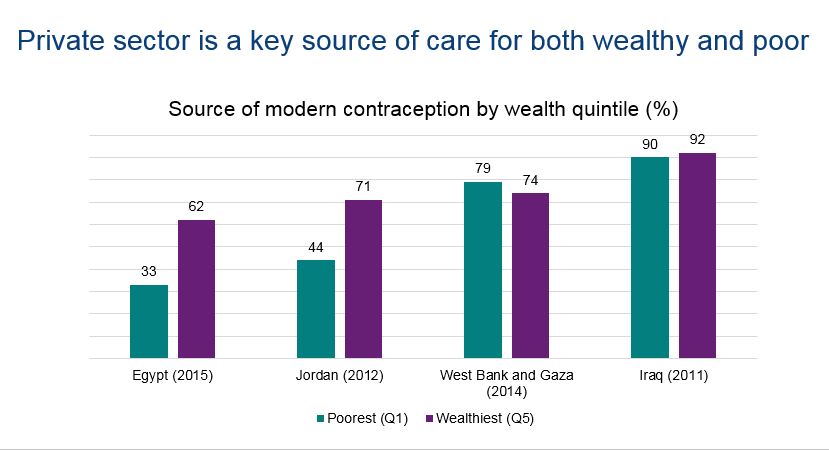 The private sector is an important source of care throughout the region, but governance and regulation of the sector are weak.
SHOPS Plus and HFG found that governance of the private sector is limited and uneven, and the private sector is not well organized to advocate for itself in most countries. Data on use of the private sector are limited, but available data show that it is an important and growing source of care for reproductive, maternal, and child health. People of all income levels use the private sector and it is a significant source of care, even for the poor.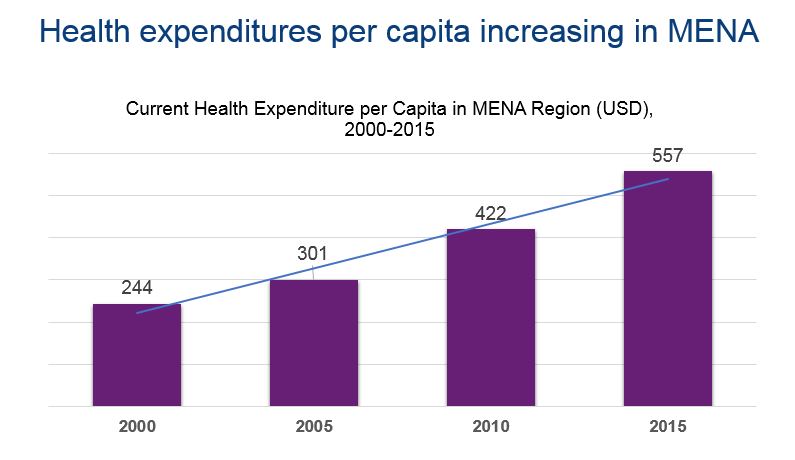 As health expenditures increase, public sector health financing is low and households bear the cost.  
There has been a substantial increase in health expenditures per capita at the regional level. However, government spending on healthcare is low compared to other regions. Out-of-pocket spending on health care is high in many countries due to several factors, among them the increasing prevalence of NCDs, which are expensive to treat; the expansion of the private sector; relatively low public sector health financing; and low population insurance coverage. Many countries are implementing new health strategies or reforms to address these issues and move towards universal health coverage.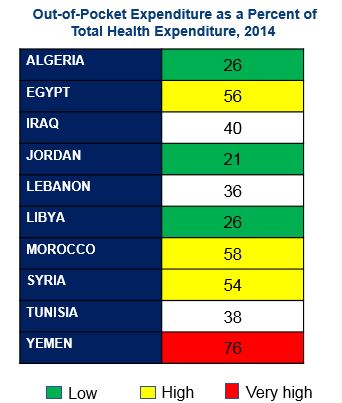 In fragile states, the private sector remains a key source of care and out-of-pocket spending is high.
The private sector is a key source of care in conflict settings, where it often develops ad hoc and unregulated in response to the deterioration of pre-war health systems. In these settings, the proportion of out-of-pocket spending is particularly high. Current levels of funding from international donors is far from being able to meet priority health needs. 
Sustainably financing health services for refugees is a major challenge; many use the private sector. 
Funding health services for refugees – including care for NCDs and mental health – is a major challenge. This is most urgent in Jordan and Lebanon, which host large refugee populations. SHOPS Plus and HFG found that many refugees living in and outside of camps use the private sector. However, refugees face substantial difficulty paying for care – one study found that 81 percent of Syrian refugee households in Jordan spent an average of half their monthly income on healthcare costs.
Some of the key ways that USAID investment can make a difference are:
Generate data
Build capacity
Support public-private collaboration
Promote efficiency and accountability
Read the short report: Regional Overview
Read the full report: Trends in Health Financing and the Private Sector in the Middle East and North Africa