Product launched in Nepal addresses childhood diarrhea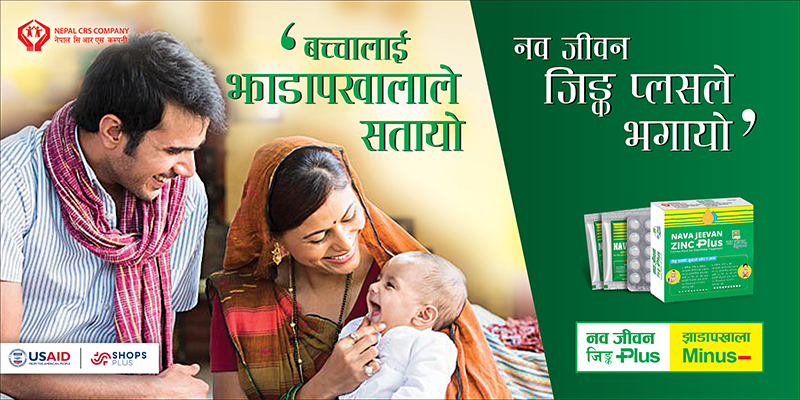 On November 17, 2019, SHOPS Plus supported Nepal CRS Company (CRS) in launching an oral rehydration solution (ORS) and zinc co-pack to mitigate childhood diarrhea cases. The co-pack, branded as Nava Jeevan Zinc Plus, is now available in more than 2,000 medical outlets in Province 2, the southeastern region of Nepal, thereby greatly increasing access to this lifesaving treatment.
Using data to identify community health needs
CRS's decision to create a co-pack was made using both existing data and findings from a SHOPS Plus study. The combination of ORS and zinc is a proven treatment for childhood diarrhea; however, the Nepal Demographic and Health Survey (NDHS) 2016 found that 37 percent of children experiencing diarrhea in the two weeks preceding the survey received ORS but only 17.6 percent received zinc. These findings demonstrate a need for greater awareness around the benefits of treating childhood diarrhea with both ORS and zinc.
An analysis of NDHS data was also essential in picking a location for the launch. The study indicated that the prevalence of diarrhea among children under 5 is highest in Province 2 (9 percent) and that the treatment rate there is the lowest (16 percent go untreated and only 3.3 percent receive treatment with zinc). Taking these findings into account, CRS decided to focus its efforts in that province.
To inform co-pack development, SHOPS Plus performed a study of retail outlets in Province 2. The project found that none of the wards in the region had the target level of stock for ORS or zinc. All outlets visited had run out of zinc at some point in the three months prior to the study, further illustrating the need to increase access to this critical product.
Creating demand for a new health product
SHOPS Plus found that the visibility of ORS and zinc was low across Province 2, meaning that even if an outlet had the products, customers were unlikely to have seen the products or marketing materials advertising them. If customers are not aware that a product exists, they will not know to ask for it.
In response to this concern, CRS took steps to procure adequate point-of-sale materials for the co-pack. SHOPS Plus identified a local advertising agency to implement a marketing campaign consisting of radio spots and jingles, billboards, and SMS messages. These measures ensure that the residents of Province 2 are familiar with the co-pack and know to seek it out when their children get diarrhea.
Gaining community support to treat diarrhea effectively
The launch event gave CRS the opportunity to introduce the co-pack to community leaders and explain the importance of using both ORS and zinc when treating diarrhea. The leaders came away from the launch ready to advocate for the use of the co-pack. As Ramdev Banrait Yadav, chairman of the District Development Coordination Committee, said, "Pharmacists and service providers should recommend the use of Nava Jeevan Zinc Plus to reduce the child mortality rate in the province where there is a high risk of diarrhea."
Learn more about our work in Nepal and child health.