Philippines family planning market has great potential for expansion, assessment finds
SHOPS Plus recently published a brief that highlights the major findings and recommendations from an assessment of the private health sector in the Philippines.
The assessment found that the family planning market in the Philippines has great potential to expand. The vast majority of women across all income segments do not want to become pregnant, but only 25 percent of all women use a modern contraceptive method.
The private sector provides 44 percent of modern contraceptive methods. Private pharmacies play a particularly important role since they are the most significant source of short-acting methods, which predominate among family planning users (see figure below). The public sector is the main source of long-acting reversible contraceptives and permanent methods.
Sources of modern methods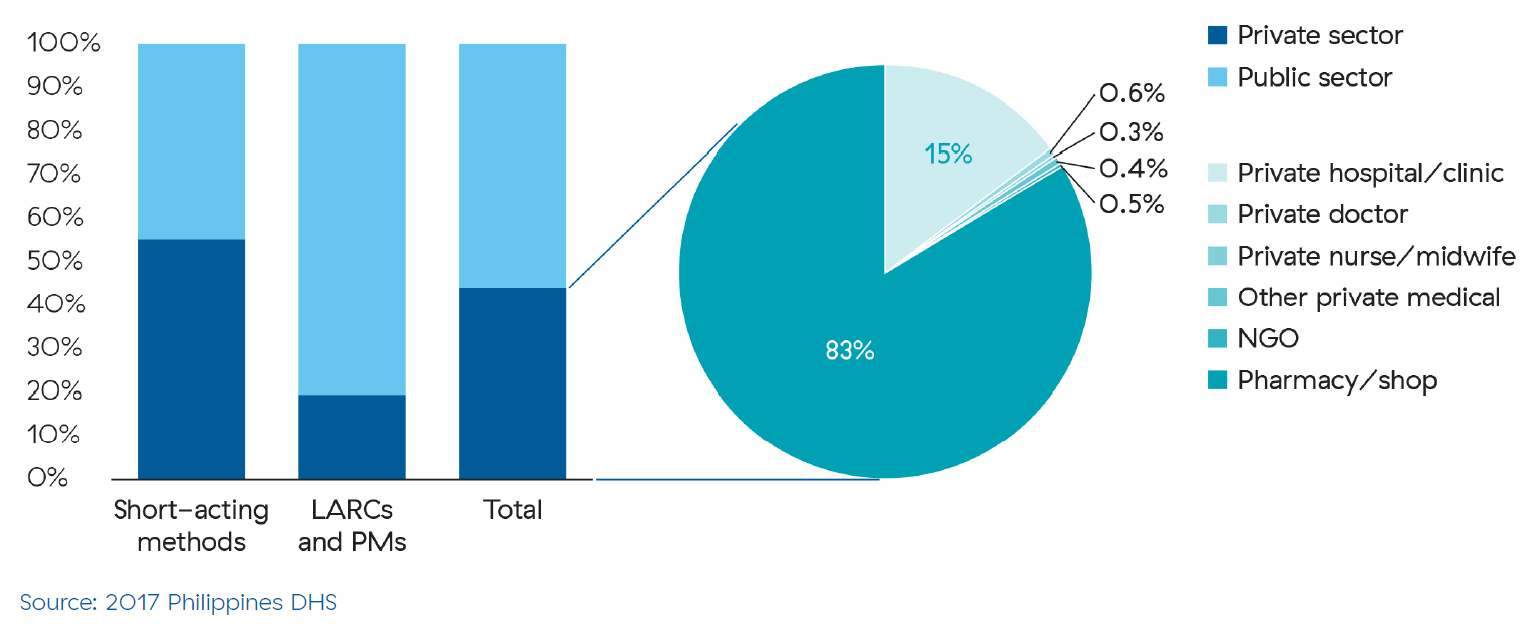 The majority of health facilities at almost every level of the health system is operated by the private sector, with the exception of community-based public health outposts. There are more than 3,000 private pharmacies across the country, and they play an important role in the provision of family planning commodities. The health workforce in the Philippines is distributed across the public and private sectors (see figure below), although there are inconsistencies between official statistics and those generated by professional associations.
Distribution of health workforce across the public and private health sectors

Since 1995, the Filipino government has operated PhilHealth as its primary pathway to achieve universal health coverage. The program has made remarkable progress in terms of the three dimensions of universal health coverage: population coverage, service coverage, and financial risk protection. PhilHealth now covers nearly all citizens. It has begun to expand service coverage, recently adopting guidelines to accredit freestanding family planning facilities. The result of this progress is that more Filipinos have greater access to the health services covered under the PhilHealth benefit package, with less financial burden. 
USAID has a long and successful history of partnering with the private health sector in the Philippines. New developments in the country present the agency and other stakeholders with opportunities to change how business is done, expand access to family planning, and ensure that all resources—public and private—are used to achieve the country's health goals.
This assessment is one of over 30 private sector assessments conducted under the SHOPS Plus and SHOPS projects. By providing key data on the size, scope, and activities of the private sector, private sector assessments help local stakeholders and development partners devise strategies, make decisions, and design programs that will maximize private sector contributions to health.
Read a summary of the Philippines assessment findings and recommendations.
Visit Assessment to Action: A Guide for Conducting Private Health Sector Assessments.
Read about SHOPS Plus private sector assessments in other countries.