Partnering with FOGSI to strengthen the quality of counselling and care for youth in India
On September 17, 2020, SHOPS Plus formalized its partnership with the Federation of Obstetric and Gynecological Societies of India (FOGSI), a professional organization representing 258 member societies and over 37,000 individual practitioners of obstetrics and gynecology from across India, to address the quality of care for adolescents and youth. India is home to the largest adolescent and youth population in the world. They face significant but preventable risks, especially with respect to their reproductive health. Improving access to youth-friendly and confidential reproductive health information, counselling, and services is critical to secure their well-being and enable informed choice.
The partnership will work to improve the quality of reproductive health counselling for youth using the balanced counseling approach, increase demand for counseling through in-clinic support, and enhance access to youth-friendly reproductive health services. With a sizable portfolio of social media and digital assets, including a multilingual helpline and an online chat platform for information on contraception, SHOPS Plus is well positioned to support FOGSI in meeting these goals.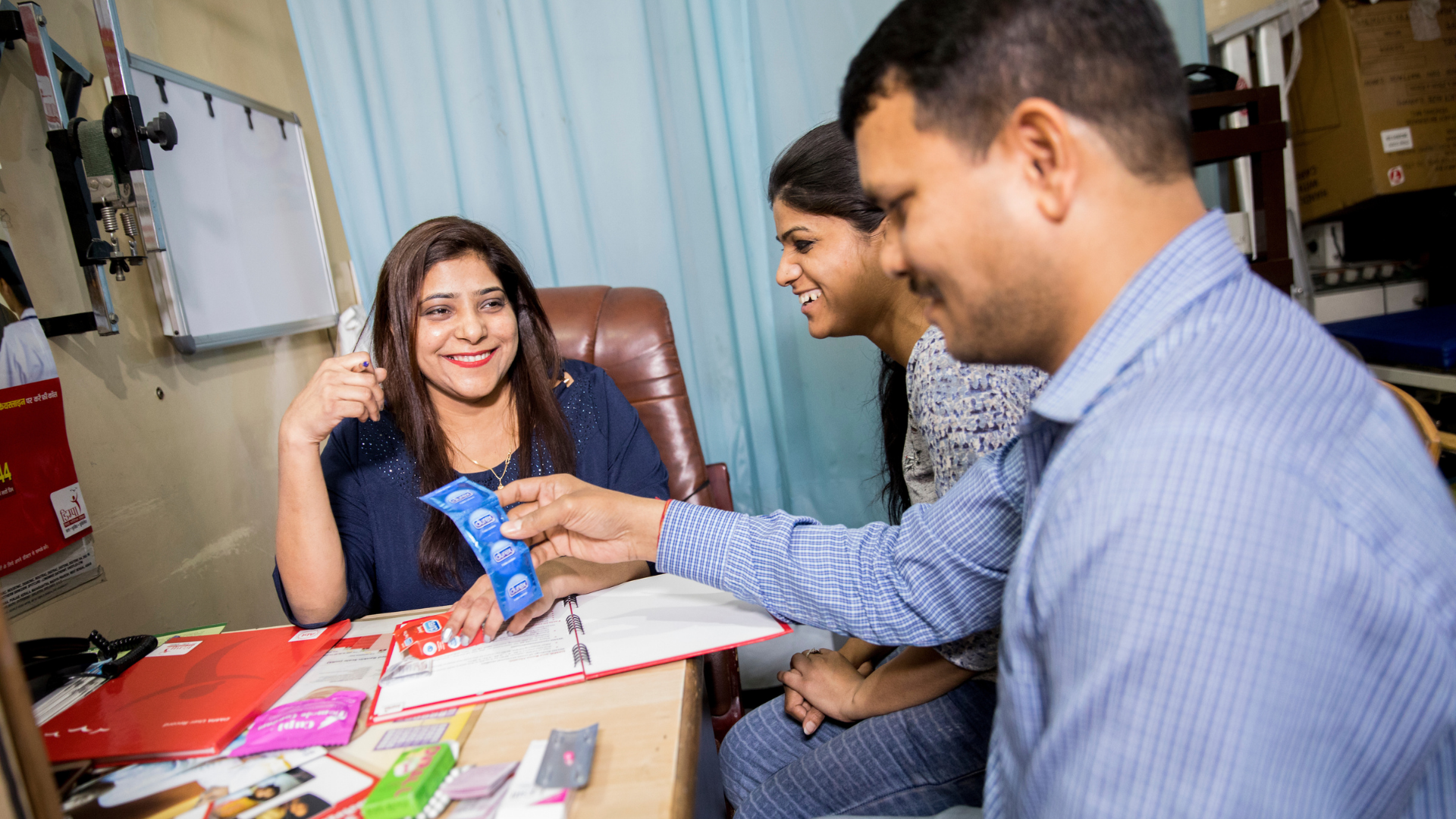 As part of the partnership, SHOPS Plus will pilot an initiative to improve counselling with FOGSI members in the cities of Delhi, Gurgaon, Noida, and Raipur. Five hundred private doctors will be given access to tools such as job aids and communication materials to help them counsel patients better, links to the SHOPS Plus helpline as well as online chat for youth to seek additional information. FOGSI will take on ownership of the helpline after the pilot and expand access to the helpline across its membership base. The partnership will also develop guidelines and define the standards for youth friendly services in clinics.
The virtual launch of the partnership included leaders from the federation, USAID, and SHOPS Plus. National leadership of FOGSI participated, including Dr. Alpesh Gandhi, president; Dr. Jaydeep Tank, secretary general; Dr. S. Shanthakumari, president-elect; the presidents and secretaries of FOGSI societies in Delhi, Noida, Gurgaon, and Raipur; and other key federation members. Senior representatives from USAID, including Sangita Patel, director, Health Office, USAID/India, and SHOPS Plus project leadership participated and championed the cause of adolescent and youth reproductive health.
Highlights from the virtual launch
Calling it a "historic" initiative, Dr. Alpesh Gandhi lauded the effort to develop "a platform that will attend to the crucial health care and health education needs of adolescents and young people." The sentiment echoed in the words of Sangita Patel, who underscored the need for "respectful, confidential, quality care for adolescents and young people" and the crucial role private providers can play in securing this. The point was reiterated by Dr. S. Shanthakumari and Dr. Jaydeep Tank, who highlighted the huge unmet need among adolescents and how good counselling and clinical services can help address this need. The heads of FOGSI societies from Delhi, Noida, Gurgaon, and Raipur shared their enthusiasm for the FOGSI-SHOPS Plus initiative and expressed commitment to make it a success.
Attendees included:
Dr. Mala Shrivastava, president, Delhi Society, Dr. Kiran Arora, president, Gurgaon Society, Dr. Sujata Bhat, president, Noida Society, Dr. Asha Jain, president, Raipur Society, Dr. Mamta Dagar, secretary, Delhi Society, Dr. Suboohi Rizvi, secretary, Gurgaon Society, Dr. Anshu Raina, secretary, Noida Society and Dr. Tabassum Dalla, secretary, Raipur Society.
Dr. Ragini Agarwal, vice president of FOGSI, Dr. Kalyan Barmade, chairperson of the Public Awareness Committee of FOGSI, and Komal Khanna, Chief of Party, SHOPS Plus, India, also spoke on the occasion. The event was moderated by Dr. Rakhi Singh, chairperson of Endocrine committee and Dr. Neharika Malhotra Bora, Chairperson of Young Talent Promotion committee of FOGSI.