Multi-faceted digital approach reaches 2.8 million in Haiti
The SHOPS Plus team, which has been operating in Haiti for the past three years, created a mobile-based digital health platform, allowing individuals to access health information on demand. The digital messages reached over 2.8 million people, covering health topics such as cholera, Zika, child health, and family planning.
Along with text and interactive voice response messages, SHOPS Plus used multi-faceted digital approaches to communicate key health messages to target populations. These approaches included push notifications on health information, on-demand content, reminders on when to take contraceptives, surveys, short factual messages, and longer peer dramas.
The mobile phone communication complemented a broader strategy that used radio, community promotion, and social media.
This SHOPS Plus program in Haiti is a strong example of a holistic use of digital health communication approaches across multiple health areas and channels. As such, the experience produced many lessons learned for other program implementers and digital health communication researchers.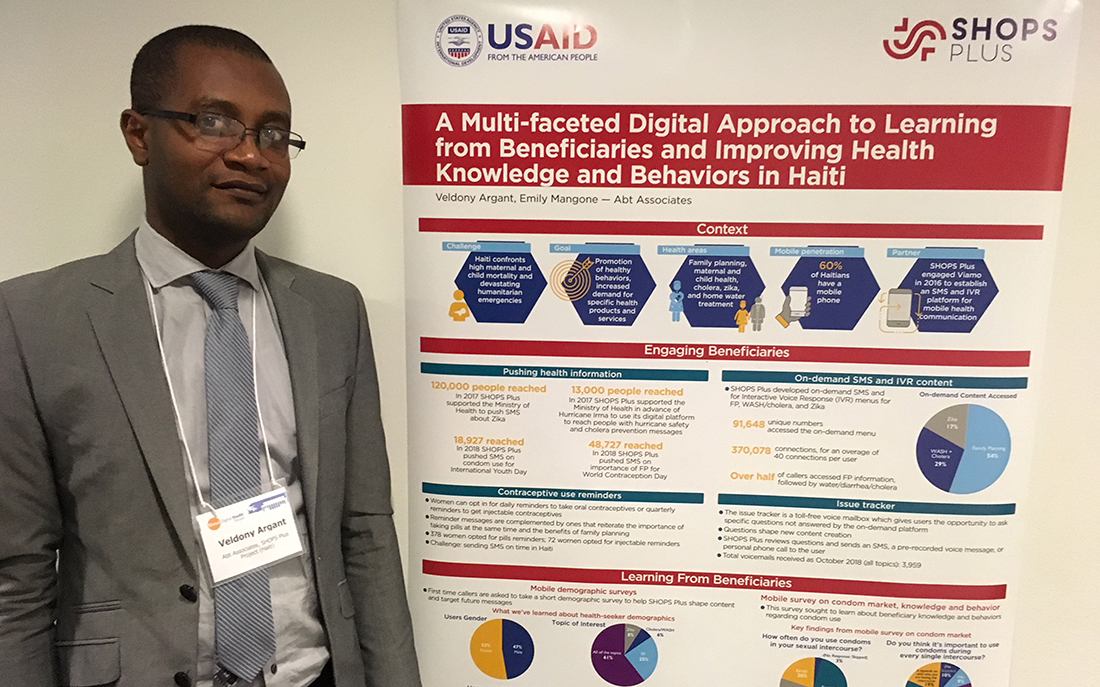 In 2018, the program's monitoring and evaluations director, Veldony Argant, presented the program at the Global Digital Health Forum held in Washington. His poster presentation won an award. Argant later presented in February 2019 at the Francophone Africa Social and Behavior Change Summit hosted in Abidjan, Côte d'Ivoire.
These digital health activities were unique and important in Haiti. SHOPS Plus implemented this strategy in a developing country context with considerable humanitarian considerations while responding to urgent and ongoing health communication needs.
Header image credit: Emily Mangone