Mobilizing private capital to increase access to HIV services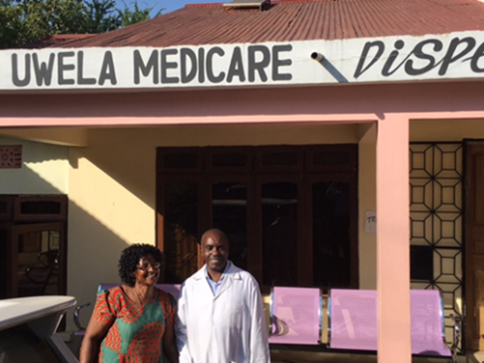 Like many private providers, Dr. Faustin Lukinda and his wife Esperance are on the frontline in the fight against AIDS. They run the Uwela Medicare Dispensary, which includes HIV testing and counseling services in its offering. Dr. Lukinda anticipates that the dispensary will soon be accredited by the National Health Insurance Fund. This is good news for nearby clients, but Dr. Lukinda wants to be sure the clinic will be able to handle the commensurate increase in client flow.
To meet the expected demand, the doctor looked into investing in new laboratory equipment and a facility expansion for HIV testing and counseling services. The SHOPS Plus team in Tanzania provides the type of support that private providers like Dr. Lukinda and Esperance need. The team guides providers of HIV services through the loan application process and in business planning. The doctor and his wife, who manages the dispensary's office and is a midwife, are interested in attending SHOPS Plus-sponsored business and financial management training sessions.
Strengthening the market for loans to the health sector
Tanzania, like other countries in sub-Saharan Africa, faces gaps in the delivery of HIV services that the private sector is in a position to fill. One strategy is to bolster financing for providers interested in delivering such services through loans guaranteed by USAID. SHOPS Plus has supported this program by conducting business training and coaching for private providers such as Dr. Lukinda. The training and one-on-one coaching lead to stronger loan applications.
At the same time, SHOPS Plus is working with banks to spur their interest in the health sector. The team conducted an assessment last year to scope out opportunities for increased access to finance for private providers. It forged a partnership with CRDB and worked closely with the bank management to increase the use of the guaranteed loans to HIV providers. The fruit of these efforts has surpassed all targets. Of the 24 loans the project has supported, 11 have been for HIV services, totaling $627,000.
The project team continues to work on loan applications for providers of HIV services. It has generated a pipeline of applications for six health facilities and is in contact with several others. Increasing access to credit for the providers of HIV services builds the financial capacity of the owners of health care facilities and enables them to better serve their clients. Private funds to private providers, helping create an AIDS free generation.
Learn more about our HIV work and what we are doing in Tanzania.