Investing in quality care for vulnerable populations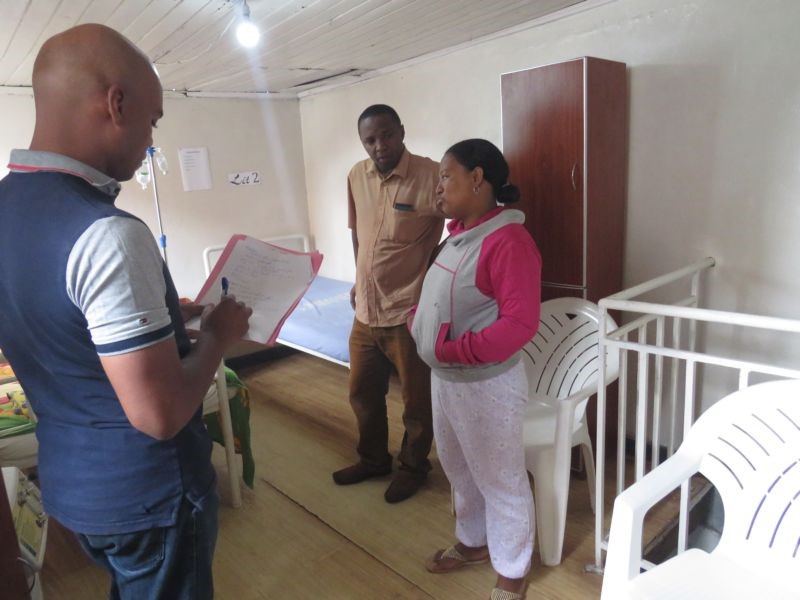 Four years ago following graduation from medical school, Dr. Miantra Randrianarison and her husband Dr. Serge Mahefa Rakotozafy wanted to join the public health sector to do good for the community. While waiting to be recruited, they decided to open their own small private health facility. What was supposed to be an interim solution has now become the Mahefa Health Center, which serves over 1,400 patients per month from disadvantaged backgrounds.
With no background in running her own center, Dr. Randrianarison had to learn financial and administrative management on the job. To deepen her knowledge in management, she participated in a SHOPS Plus financial and business management training in January 2019. In the months following the training, Dr. Randrianarison said, "The training and coaching have allowed us to improve bookkeeping, inventory management and the patient flow. Transactions are more fluid and more secure." As her patient intake grew, Dr. Randrianarison looked for ways to improve the quality of the health services her center provided.
After reviewing her center's financial books and receiving feedback from her team, she realized that there had been an increase in the number of patients requiring short-term hospitalizations, but the center lacked adequate infrastructure to serve this growing clientele. Following the recommendations of SHOPS Plus, Dr. Randrianarison and her husband invested their own funds into the center to improve accommodation for short-term hospitalizations. As a result of this investment, the center has been able to add nine beds on premises for post-birth patients and for other patients requiring short-term medical follow-up.
"My husband and I were hoping to join the public service. We had opened a health facility in the meantime. The facility has now become a center and I am proud of it." – Dr. Miantra Randrianarison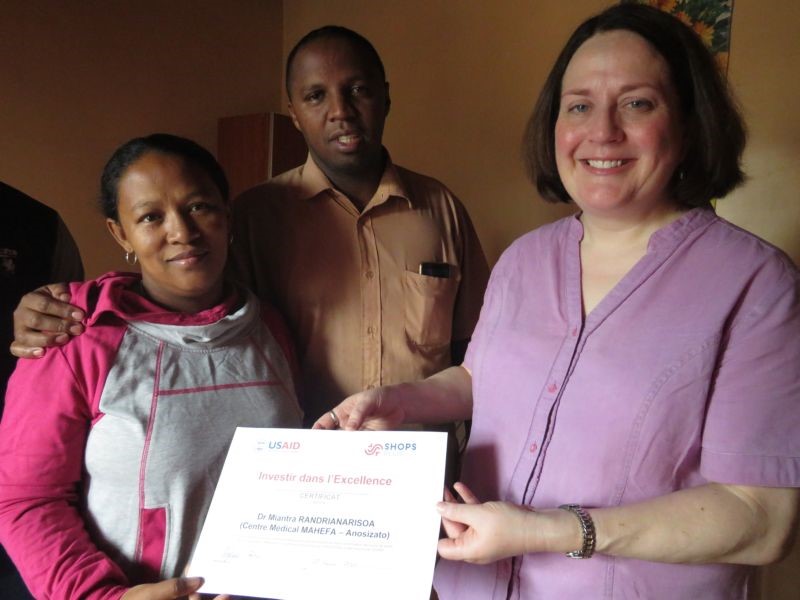 In addition to ensuring that her center has adequate equipment and space for patients, Dr. Randrianarison and her husband have implemented a tiered pricing system for deliveries and hospitalizations so that people who would normally not be able to afford safe and quality health care can still receive services. In this way, Mahefa Health Center's maternity ward allows families from poorer areas of Antananarivo to benefit from medical assistance in childbirth starting at $13. There is no other health facility in Antananarivo that provides this type of quality care at such a low cost. When asked why she had chosen such a low cost for her services, Dr. Randrianarison explained, "Quality service at accessible rates to the poor is how we ensure that we reach as many patients as possible to be profitable and help others in need, as our satisfied patients recommend other clients to us."
Dr. Randrianarison and Dr. Rakotozafy received the SHOPS Plus "Investing in Excellence" certificate in recognition of their center's work and their investment in providing improved access to quality care for those who need it most.