Fully accounting for private sector data
A national health management information system that includes data from both the public and private sectors is vital for effective oversight, management, and provision of health information, products, and services in a country.
However, few countries have fully galvanized routine reporting by private health care providers. This results in incomplete data on the types, volumes, and quality of services and products delivered through private sector channels.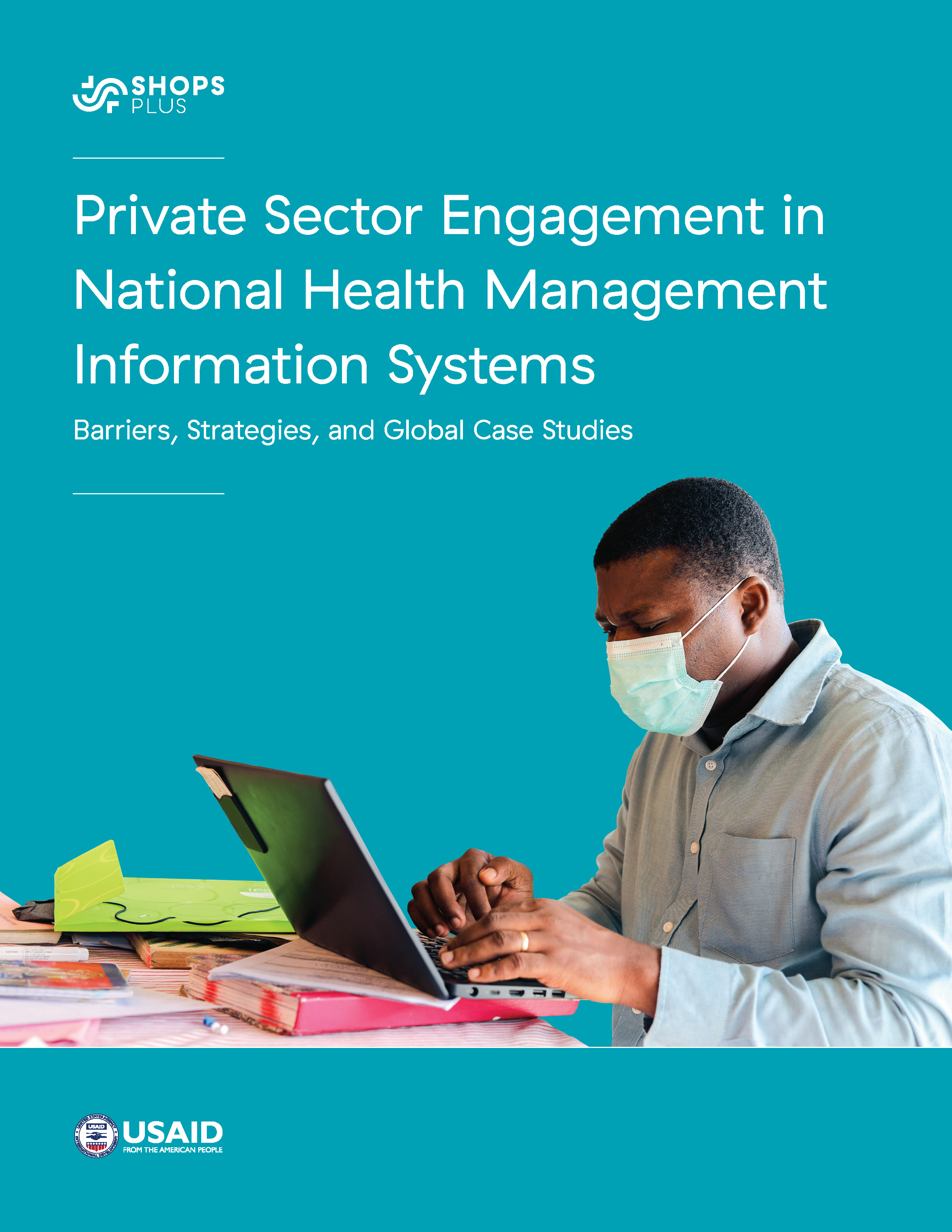 SHOPS Plus leads global efforts to ensure the contributions of private providers are reflected in national health management information systems. In a recently published report, Private Sector Engagement in National Health Management Information Systems: Barriers, Strategies, and Global Case Studies, the project shares key insights and lessons from global activities supporting private sector reporting and offers actionable recommendations to governments, private providers, donors, and implementing partners.
"The structural incentives, engagement, and support that motivate reporting in the public sector are often missing for private providers," states Emily Mangone, one of the authors of the report. "We suggest approaches that have helped us and other stakeholders overcome barriers so that private providers are motivated to share data."
In the report, SHOPS Plus establishes a framework for assessing and supporting private sector participation in a national health management information system. The framework comprises three interrelated components, shown below. Each presents a set of foundational considerations for private sector engagement.
Governance and public-private partnership focuses on the policies, regulation, advocacy, representation, and collaboration that are necessary to enable and enforce private sector participation.
System readiness focuses on the underlying architecture and configuration of information systems that facilitate or obstruct the inclusion and use of private sector data.
Implementation with the private sector reflects on-the-ground realities of routine reporting in resource-constrained environments.
Using this framework, SHOPS Plus identifies common barriers to the inclusion of private sector data in a national health management information system from the perspective of private providers and local governments, and offers strategies to overcome these barriers.
Click here to access the full report.