Convenience is key in consumers' contraceptive brand choice, Nepal study finds
A SHOPS Plus qualitative study indicated that convenience and consumer experience drives brand choice for oral contraceptive pill and injectable users in Nepal rather than brand loyalty or price.
Generating evidence to inform decision making
SHOPS Plus conducted 37 in-depth interviews with pill users, injectable users, public health care providers, and providers from CRS's private pharmacy network called Sangini. Interviews were conducted in four rural and remote districts in Nepal to better understand factors driving consumers' pill and injectable brand selection choices. The interviews were conducted after a SHOPS Plus knowledge, attitudes, and practices survey found that the use of government-sourced pills and injectables significantly increased in rural and remote areas between 2018 and 2020, while the use of CRS brands decreased.
Identifying key determinants in consumers' brand selection
The qualitative study found that convenience is the primary factor that determines brand use. Most consumers chose the product that was available at the facility closest to them, thereby selecting the source rather than the brand. The government of Nepal recently opened additional public health facilities around the country, making public facilities more accessible. Consequently, use of government sources has increased.
Most consumers perceived government and CRS products to be equally effective and of a similar level of quality. As a result, there is little differentiation in Nepal's family planning market for injectables and pills, as consumers see the products as interchangeable. Still, several consumers noted that they preferred obtaining contraceptives in the public sector because they received counseling on health topics other than family planning. This type of counseling was less available when purchasing a CRS-branded product, which are sold through CRS's Sangini network. Consumers also appreciated lower-priced family planning products, but price was not a barrier to use. This suggests that some consumers would be willing to pay a higher price to have a better customer experience.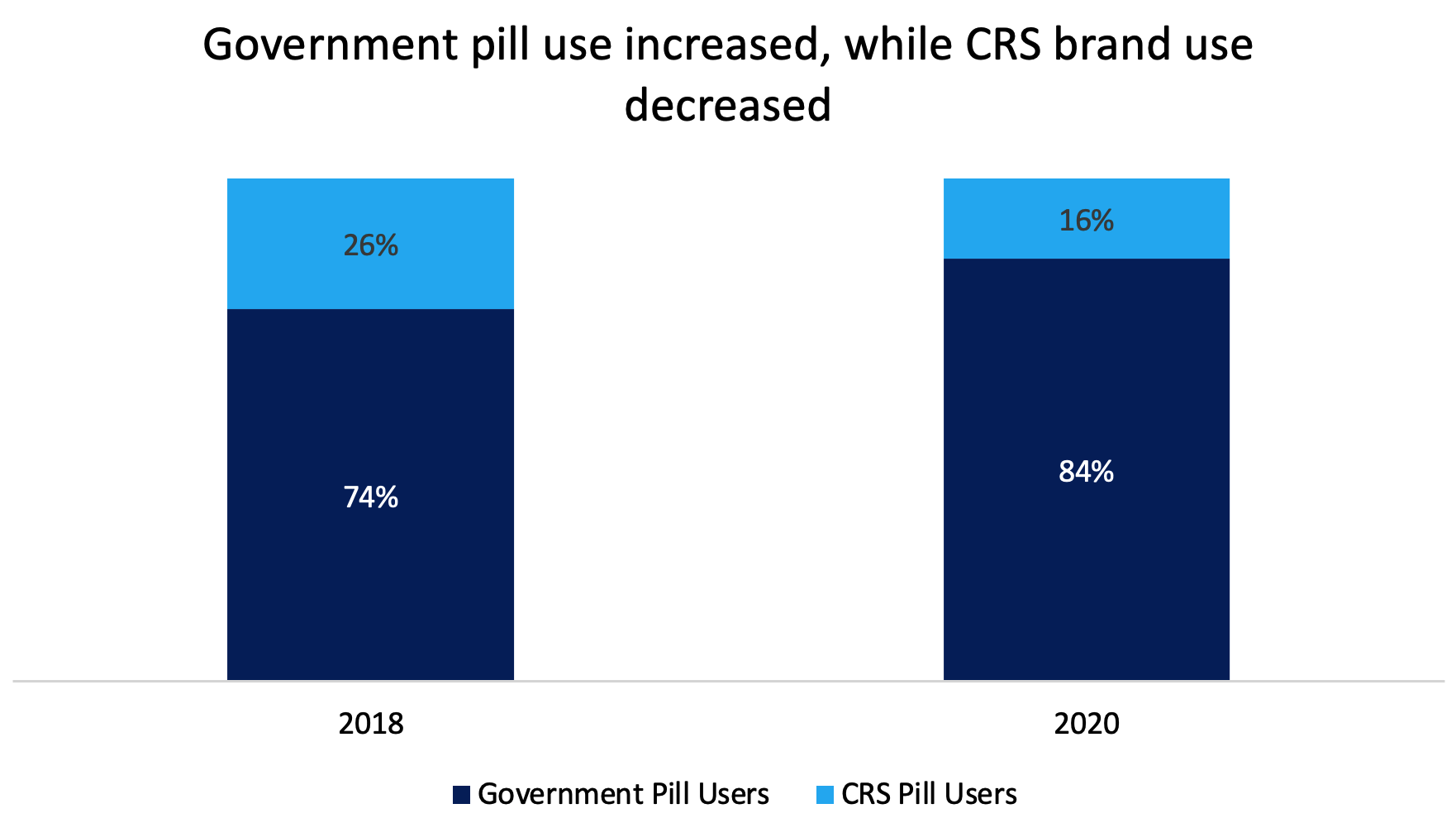 Recognizing a need for an improved consumer experience
A next step for CRS is to add value for pill and injectable consumers. This can occur before a consumer purchases a contraceptive method through marketing and promotional activities, during the purchasing experience with improved counseling and quality care, and after purchase by offering options to improve accessibility, including telehealth consultations, a discount for future purchases, or home delivery of a consumer's next dose.
SHOPS Plus validated these findings with CRS and USAID in May 2021. CRS is looking into strengthening counseling provided in Sangini pharmaceutical outlets and targeted outreach to potential clients to improve their consumer experience to increase market share, and, ultimately, maintain consumer choice with a variety of brand options.