Assessment finds private sector could help address family planning needs in Côte d'Ivoire
Despite economic and political progress in Côte d'Ivoire, a number of health challenges persist and high quality family planning products and services remain inaccessible for many. Expanding the role of the private health sector could help address these issues, but data and information about this sector are limited. The SHOPS Plus project conducted an assessment of the family planning market and provided targeted recommendations to empower stakeholders to sustainably engage the private sector and help Côte d'Ivoire achieve its Family Planning 2020 targets. 
While the government is committed to increasing the availability of family planning products and services, contraceptive use has changed little in the past 20 years. Despite the efforts of the country and its partners, Cote d'Ivoire did not reach the 25 percent goal for modern contraceptive prevalence rate (mCPR) in 2016 and may have difficulties achieving the 2020 goal of 36 percent included in the national action plan for family planning.
For health care in general, the public sector is the dominant provider, but the private sector is an important source of care and a growing contributor to public health initiatives. The assessment looked at the overall health sector, and at the demand for and supply of family planning. It found that the majority of women who use modern contraception obtain their methods from private sources, primarily through pharmacies or shops (see the following figure). Women who use methods that require a clinical service provider, such as IUDs and implants, are more likely to obtain them from the public sector. The SHOPS Plus project, in collaboration with USAID/Côte d'Ivoire, conducted the assessment to learn how to better engage the private sector and help Côte d'Ivoire achieve its Family Planning 2020 targets.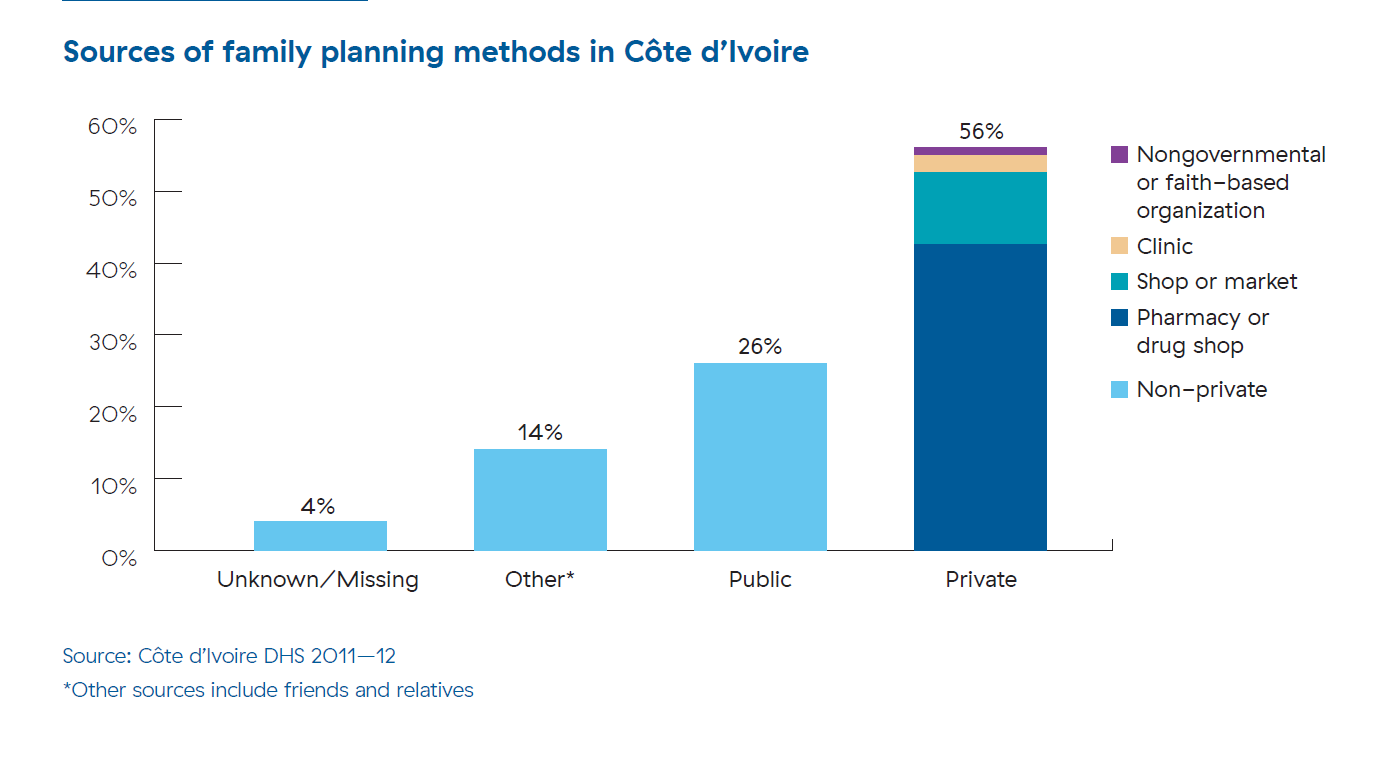 Working closely with Ivorian stakeholders, a team of four SHOPS Plus staff specializing in total market approaches, market dynamics, and family planning conducted a research review and interviewed more than 30 individuals from public and private sector organizations. The team shared findings with government and private sector stakeholders in Côte d'Ivoire. It developed recommendations to support increased access to and use of modern family planning methods in collaboration with public and private sectors.
Read more about the assessment findings and recommendations in a brief.
Learn how SHOPS Plus conducts private health sector assessments in developing countries; access our online tool, Assessment to Action.