Case study: Strengthening the family planning practice environment for Senegalese private providers
Despite the broad existence of national policies, standards, and protocols for quality assurance in Senegal, private sector providers are often unaware of them. SHOPS Plus implemented a methodology known as Tutorat, which was developed for the public health sector by IntraHealth International. Using facility assessments and coaching, Tutorat (which means tutoring in French) helps private facilities identify and resolve gaps in their practice environment, such as a lack of commodities, supplies, and equipment. It is a comprehensive approach that considers a variety of factors that affect quality of care across a range of health services.
IntraHealth International began implementing Tutorat in Senegal in 2008 in collaboration with the Ministry of Health and Social Action, with funding from USAID. Now in its third iteration (Tutorat 3.0), the methodology builds the capacity of facility-level supervisors and identifies champions to assess weaknesses in the practice environment and develop action plans to address them.
SHOPS Plus support
Recognizing a need for private providers to use policies, standards, and protocols in their practice environment more often, SHOPS Plus worked with USAID, the Ministry of Health and Social Action, IntraHealth's Neema project, and Senegal's Private Sector Alliance to adapt the Tutorat 3.0 methodology and extend it to the private sector. Seventy-five private health facilities in five regions of Senegal used the adapted methodology, Tutorat-P.
Implementation of Tutorat-P begins with pre-assessments of facilities. The pre-assessment uses a checklist that evaluates adherence to guidelines, availability of core service equipment, and access to necessary commodities and supplies. It determines a broad range of gaps and facility-based needs, resulting in a tailored improvement plan delivered by coaches. Coaches, who are clinicians from the public and private sectors, provide hands- on, personalized support to facility supervisors to familiarize them with the approaches emphasized in Tutorat-P, including the policies, standards, and protocols. Coaches provide support on a variety of health topics such as family planning, maternal and child health, and infectious disease. Recognizing that private facilities are businesses that must be financially sustainable, Tutorat-P coaches provide business and financial management support. Follow- up assessments are conducted to evaluate improvements and identify needs for further coaching to address the remaining gaps.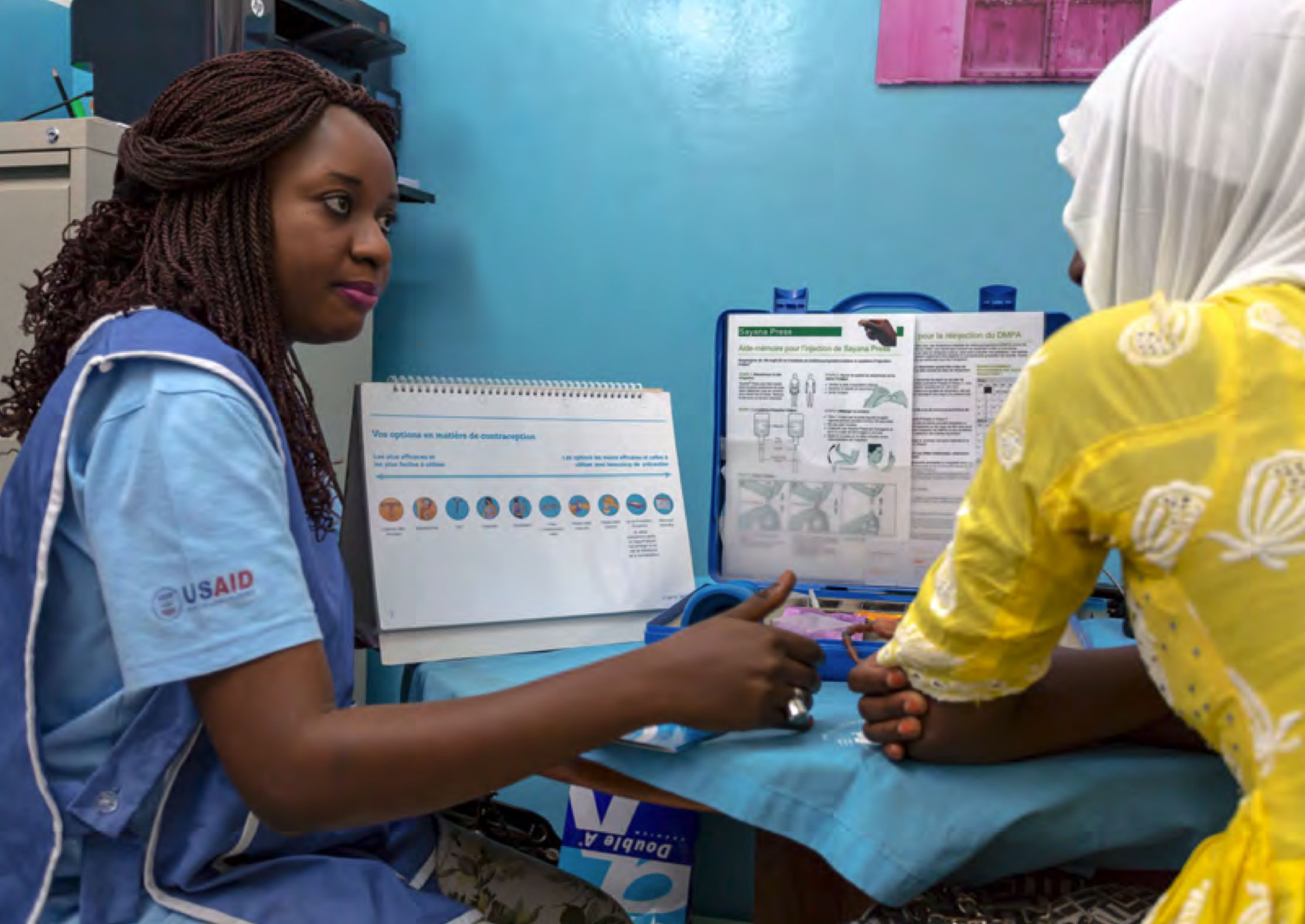 The assessments found three common needs across private facilities: rapid malaria diagnostics, long-acting and reversible contraceptives, and vaccine or consumable materials required to provide immunizations. To address these needs, SHOPS Plus worked to increase provider access to finance in the form of loans from private financial institutions. In addition, the project established a partnership with the Ministry of Health and Social Action. SHOPS Plus presented the findings of the performance evaluation to the district health management teams, who agreed that private facilities needed to be brought into the overall health system. Public sector district management teams and private facilities plan to sign agreements formalizing their relationship. Private facilities are being integrated into district training activities, coordination meetings, and supervision activities. In return, private providers agree to regularly report through the National Health Information System platform, DHIS2.
All health facility employees—from the provider to the janitor—have a role to play in strengthening the practice environment to deliver quality services. When applying Tutorat-P, SHOPS Plus found that larger facilities have staff members who are on duty at different times of the coaching visits, resulting in an uneven retention of knowledge. For coaching to be most effective, facilities need permanent, committed staff members to benefit from the regular coaching. This should be established in the initial coaching plan, which should be a joint exercise between the coach and the facility manager.
Results
As of 2019, SHOPS Plus supported 50 coaches in delivering the Tutorat-P methodology to 631 private providers. The interaction between the coaches and facilities has helped providers better adhere to the policies, standards, and protocols by identifying their gaps, needs, and solutions. For example, the follow-up assessment of participating clinics in Dakar shows a 26 percent increase in clinic management scores and an increase from 35 percent to 65 percent in adherence to health protocols (Figure 2).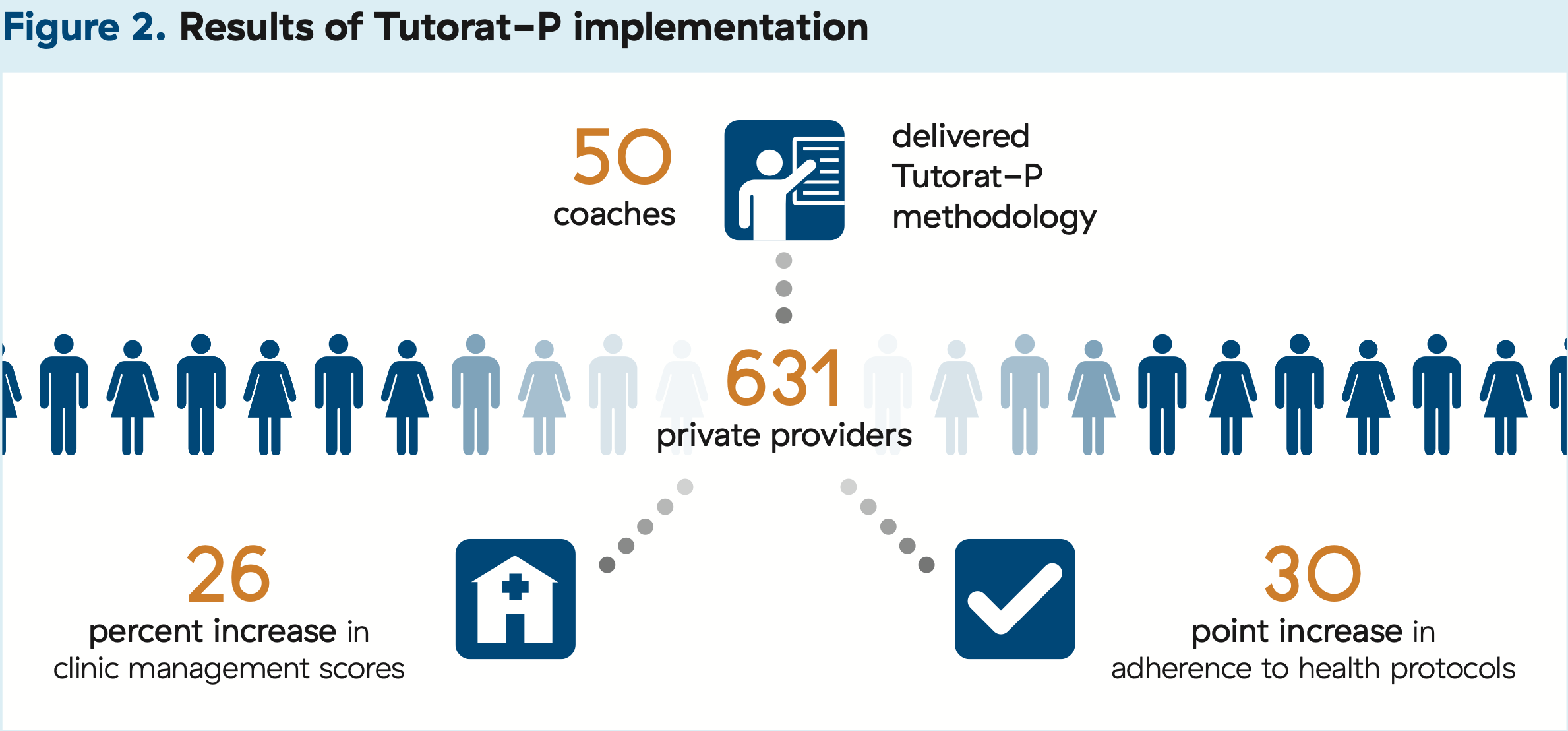 Experience from the ongoing application of the methodology has led to further improvements and refinements, such as limiting each visit from a coach to focus on one area of quality and increasing the frequency of follow-up. In mid-2020, SHOPS Plus transferred the Tutorat-P program to district management teams to improve their participation in Tutorat-P and their overall relationship with private facilities.